Trish Love to wear short dresses without panties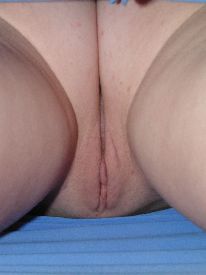 Trish prefers to not wear panties under her dresses. That way she can show off her nice juice pussy to guys easier. She can spread her legs apart, and they can get a good view of it.
Today Trish decided to take the bus into town and get a vibrator to come home and play with. On the bus, she sat back a few rows from some guys, and sat close to edge. And with her looks she turns heads, and all of the guys watched as she got on, and took her seat.
As she sat there she spread her legs apart so the guys could look back and enjoy the view. It wasnít long until a couple of them looked back to check her out again. Trish could tell by the smile on their faces that they could see her nice juicy pussy. This of course always made her wetter, and hornier.
Trish got to her stop and got off, and went in the store to get a vibrator to take home and play with. She picked out a nice vibrator to take home to play with.
Trish got home, and was dripping wet from showing herself out to the guys in the bus. She was so wet she didnít need to add any lubricant to the vibrator before she started play. She turned the vibrator on, and put it in her juicy wet pussy. She dreamed about having one of the guys on the bus in her wet pussy. And it wasnít long before she had a big orgasm from the vibrator in her pussy.
Trish hopes to go out tomorrow and show off her pussy while having lunch.
Date: 2010-10-15