Tanisha love to go without panties
Tanisha, is a hot and foxy black girl, who prefers to not wear panties under her dress. She likes to keep her kitty cool, and by not having panties on she stays cooler.
It was early spring, as Tanisha went off to class. Little did she know that day, that there would be some older guys working in the underground tunnels, which have an open grate on them. And since those tunnels have an air draft the blows up out of the grate, it tends to blow open the skirts and dresses on the woman.
As Tanisha was walk over the grate on her way back to her place, the guy were watching for girls without panties, as it was their lunch break. They were ready with camera in hand to take pictures of any one the hot girls without panties. She was just one of the girls that they got pictures of that day.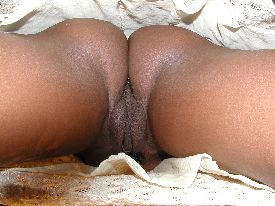 Tanisha heard the guys below her, and that just made her hornier and wetter. She does like to show off the kitty at times, but she is very selective whom she shows her kitty to. But the thought of the strange guys down there just did something for her today. With that she hurried back to her place so she could masturbate. She got out her favorite dildo and started masturbating. It wasn't long until she came, and her eyes rolled up as she moaned in ecstasy.

Date: 2011-01-19