Sara takes a bubble bath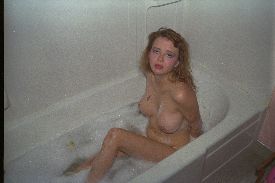 I was sitting in the bathtub when Linda came home.
Linda shouted, "Sara! Sara! Are you home?"
I screamed back, "Yes, I am in the bathtub." I went back to enjoying my bubble bath, and as it was getting a bit cold I turned on the hot water to add more water to the tub. Since I was running the water, I didn't hear Linda open the bathroom door and come in.
Once, I turned the water off, Linda said, "Damn you have a sexy fucking body." I asked her "Would you like to join me in a bubble bath?" I moved to make room for her, to which she smiled, and started to take her cloths off. She pulled off her mini shirt and her top, leaving her in a black lace thong, and a bra. I could feel myself getting more and more excited with her standing there, as she unhooked her bra, and removed her thong.
Linda then stepped into the tub with me, and sat down opposite of me. I could feel her foot rub against my leg as she smiled and stared at me to see how I would react. She was admiring my big breasts, as she started to rub my leg with her hand as well.
I was going to just use the dildo that I had in the tub on myself. Linda had not seen it as the bubbles had hidden from sight. But since it was apparent she wanted me, I decided we could use the dildo on each other. Linda pulled me towards her, and gave me long passionate kiss, with tongue. As she did my nipples got hard, and I reached up with my hand to caress her breasts. I could feel her nipples getting hard as I caressed them.
Linda then put one hand on my shaven pussy and started to massage my clit. It was then that I surprised her by pulling the dildo out of the water, and showing her my toy. She said "Please put that dildo in my pussy and make me come!" I was happy to do this for her. She kept massaging my clit, as I put the head of the dildo against her pussy and slowly pushed it into her. She moaned as it slid into her.
Linda said, "Fuck me, fuck me hard with that dildo of yours! I want to feel it in me all the way." I pushed the dildo in and out of her faster and faster, until she let out a scream that she was coming.
I removed the dildo from her pussy, and said "It is your turn to use it on me." To which she was happy to oblige me on that. It was long before I was coming as well from the dildo being in my pussy.
She got out of the tub, and dried off and left leaving me in the tub wondering what will happen next.
Date: 2010-10-29
Thank you for every other informative web site. The place else may just I am gttnieg that kind of info written in such an ideal method? I've a venture that I am simply now operating on, and I've been at the glance out for such information.
Posted: 2015-09-16 19:08:14
Add your comment, currently '1' comment(s)